SPECIAL FEATURES
Tia Carrere
Margaret Cho
Church of Rhythm
Hiroshima
James Hong
Bruce Lee
Jet Li
Keye Luke
Martial Law
Minoru Miki
Lea Salonga
George Takei
Tamilyn Tomita
Ming-Na Wen
Anna May Wong
Russell Wong
HOME

SECTIONS
Actors
Actresses
Astronauts
Athletics
Authors
Business People
Cartoonists
Community Leaders
Dancers
Directors
Fashion Designers
Film Festivals
Military
Musicians
Newscasters
Politicians
Television Shows


PHILIP AHN - A SHINING STAR
A GREAT ACTOR AND PIONEER

Written by Philip (Flip) Ahn Cuddy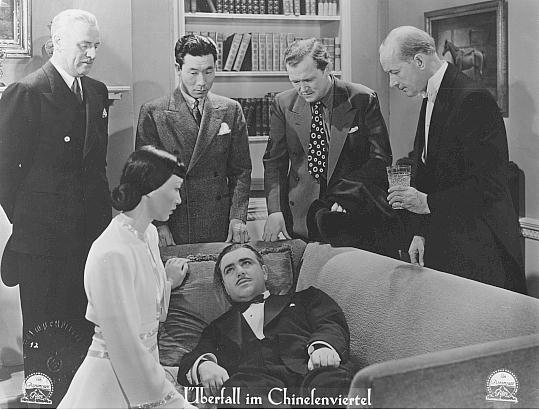 Philip Ahn was cast in dozens of propaganda films that stirred up hate for the Japanese during World War II. He played many roles as the cruel Japanese officer who tortured American flyers and soldiers for information. He once said making people hate the Japanese was a way for him to actively participate in the Independence Movement of Korea, in which his father had been a great leader against imperialism. He played his roles so well that he was personally attacked by people who took the movies seriously. Hate mail, threats on his life, and other manifestations of his unpopularity soon convinced Ahn one way to stop it was to quit acting and join the Army. He served the United States with distinction.



PHILIP AHN'S
Filmography





One-Eyed Jacks
The Great Impostor
Fair Wind to Java
China
Back to Bataan
Love's a Many Splendored Thing
Thoroughly Modern Millie
Shock Corridor
A Girl Named Tamiko
The Karate Killers
The Story of Dr. Wassell
Battle Circus
Daughter of Shanghai
Battle Hymn
The Left Hand of God
His Majesty O'Keefe
Never So Few
God Is My Co-Pilot
Paradise Hawaiian Style
The World's Greatest Athlete
Jonathan Livingston Seagull
Yesterday's Enemy
Hong Kong Confidential
The Adventures of Smilin' Jack
Macao
Barricade
Betrayal From the East
China Venture
The Shanghai Story
Blood on the Sun
Boston Blackie's Chinese Venture
Buck Rogers
Charlie Chan in Honolulu
China Corsair
China Girl
China Passage
China Sky
The Chinese Ring
The Cobra Strikes
The Creeper
Disputed Passage
Don Winslow of the Coast Guard
Confessions of an Opium Eater
Battle Zone
The Big Hangover
Diamond Head
The General Died at Dawn
I Was an American Spy
Intrigue
Japanese War Bride
The Keys of the Kingdom
King of Chinatown
Let's Get Tough
The Miracle of the Bells
Hawaii Calls
Halls of Montezuma
Hell's Half Acre
Red Barry
Red Snow
Roaring Timber
Secrets of Monte Carlo
Something to Sing About
State Department - File 649
Submarine Raider
Target-Hong Kong
Thank You, Mr. Moto
They Got Me Covered
The Way to the Gold
Women in the Night
A Yank on the Burma Road
Ahn was asked many times

about his playing the role of Japanese "heavies." People who interviewed him wondered about how the death of his father at the hands of the Japanese in 1938 affected his emotions during his portrayal of a Japanese character. "True I hated the Japanese, but I told myself that if I was going to play the enemy, I was going to play him as viciously as I could. In Back to Bataan (RKO, 1945) I slapped little children and went so far as to hang a teacher from an American flagpole. I took pride in being the most evil man alive."

It wasn't always the heavy role

for Philip Ahn. His role of Ping, the sympathetic assistant to Gary Cooper in The Story of Dr. Wassell, the romantic lead opposite beautiful Anna May Wong in Daughter of Shanghai, which he said was his most favorite film, Love Is a Many-Splendored Thing with William Holden and Jennifer Jones, Around the World in Eighty Days, Thoroughly Modern Millie with Julie Andrews and Carol Channing, and Paradise Hawaiian Style with Elvis Presley offered him roles of compassion, humor, and warmhearted wisdom. Philip also made an appearance in an episode of Rod Serling's "Twilight Zone."

In the late 1950s,

along with his movie career, he helped his sister Soorah Ahn open a Chinese restaurant in Panorama City. The restaurant was in business at 8632 Van Nuys Boulevard for thirty years. It was one of the very first Chinese restaurants in the San Fernando Valley. Philip's popularity and naming it "Phil Ahn's Moongate" brought in the crowds for three decades. On the weekends there would be a long line to get a table. A lot of kids thought he was a real bad guy and were scared to meet him. But many happy customers got a great meal and an autographed photo. The food was very well prepared and even received a good comment from famous taste tester Elmer Dills. Today many people still have fond memories of the Moongate.

Philip Ahn was very involved

in the community's affairs as well as entertaining them. In May of 1962 at the first annual Panorama City Chamber of Commerce Day, Philip Ahn was installed as Honorary Mayor of Panorama City. Philip had always found a way to cross lines that others could not. He used his confidence and intelligence to gain acceptance. this appointment added great esteem to the Chamber because of Philip's stature as a well-known international motion picture and television actor. Members from the State Assembly, the County Board of Supervisors, the Los Angeles City Council, and Mayor Sam Yorty's office participated in this event to welcome Philip to the political community. Actually, Philip Ahn was a great diplomat and liked to be involved with lots of people. The political community was another stage on which Philip found it comfortable to perform.

During Tom Bradley's era

of running Los Angeles, Philip gave his assistance. He was responsible for giving Korean Americans and the Korean nation some visibility and identity. Two the projects he led were the establishment of Los Angeles as a sister city to Pusan, Korea, and the Korean Friendship Bell. Among Philip's belongings were hundreds of letters from politicians, both Republican and Democratic, and community leaders from all ethnic and mainstream communities thanking him for his participation and support for a wide variety of causes. Philip Ahn definitely gave more than he took.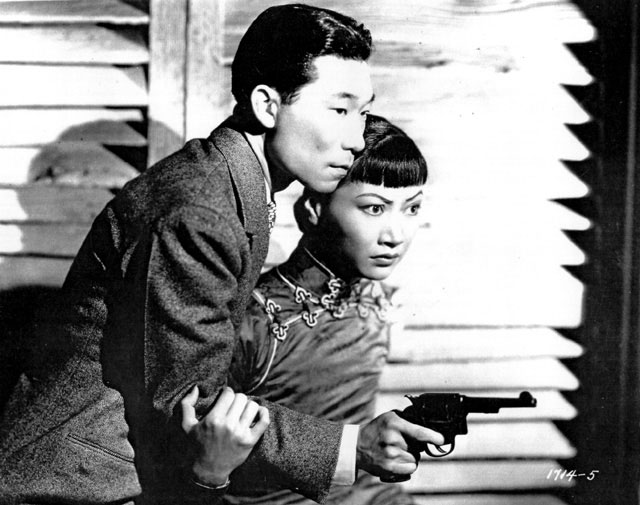 His early involvement in international affairs at USC came in handy during this facet of his life. His acting made him a great public figure and excellent speaker. He was the honorary mayor of Panorama City for almost twenty years. He was a strong spokesperson for the Korean community and his ability has never been matched, and most likely never will.

By the 1960s,

Philip Ahn had worked with many great stars such as Bing Crosby, John Wayne, Gary Cooper, Humphrey Bogart, Burt Lancaster, Frank Sinatra, Key Luke, Richard Loo, Madeline Carroll, Anna May Wong, Ethel Merman, Julie Andrews, Shirley Temple, and Mae West, to name a few. He had worked for Desilu, Four Star, Screen Gems, Warner Brothers, MGM, Universal International, Paramount, 20th Century, RKO, Columbia, and all the other major studios. Ahn got to travel the world to filming locations in Hawaii, Fiji, Hong Kong, and Europe, to list a few. He worked hard at developing his skills. He played his parts well. His great success was a product of his determination to be one of the best.




To continue the article, click HERE


Part 1: His early years and parents Part 2: Education background and beginning years in the film industry Part 3: Details on his movie career, restaurant and community involvement Part 4: His commitment to the U.S. troops, his last roles and his concern for APA actors Part 5: Legacy of his achievements




Any questions regarding the content, contact Asian American Artistry
site design by Asian American Artistry
Copyright © 1996-2002 - Asian American Artistry - All Rights Reserved.
Special thanks to Vision Software